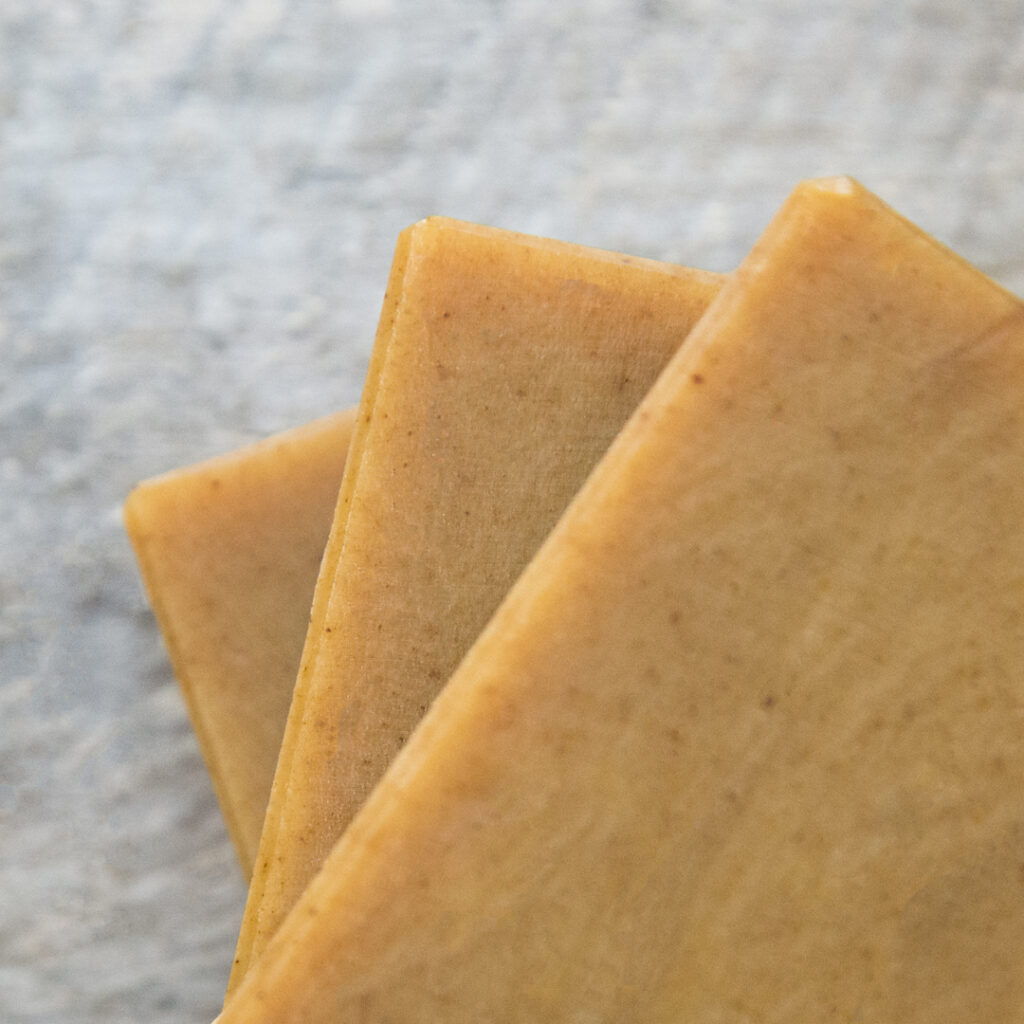 Turmeric has really become a popular skin care ingredient over the last few years. Like with the activated charcoal several years ago, people have had their eyes opened to the benefits of turmeric for your skin. In this post we outline why our Turmeric Goat Milk Soap should be added to your skin care routine.
Benefits of Turmeric for Your Skin
It can Aid in the Healing of Acne: Turmeric is believed to have antibacterial and antiseptic properties, because of this it is said that it might help fight acne-causing bacteria. This magic ingredient is also said to be anti-inflammatory. This could help accelerate the healing of skin that is already irritated.
Gives your Skin a Natural Glow: Turmeric's anti-inflammatory, antibacterial, and antiseptic properties come together to leave your skin healthy and clean. Your skin is left looking bright and even.
Lightens Dark Spots (Hyper-Pigmentation): Age and sun can bring about dark spots on our skin. When used regularly it is believed that turmeric can lighten these spots and give your skin a more even appearance.
Manages Oily Skin: Sebum is an oily substance produced by the sebaceous glands. Turmeric is said to help regulate its production, making your skin less oily.
Could Help Psoriasis and Eczema: Let me start by saying if you are fighting one of these awful skin conditions you should first seek help from your doctor. If you are looking for a natural way to help combat them try adding a turmeric soap to your regiment. PhK is a protein associated with psoriasis. It is said that turmeric helps inhibit the activity of this protein. Turmeric's antibacterial and anti-inflammatory properties may help with eczema.
Fights Premature Aging: Who wouldn't want that?! It is believed that turmeric may boost collagen growth and accelerate the growth of new healthy tissue. This could help in the reduction of fine lines and wrinkles.
If you are using straight turmeric on your skin it can cause your skin to develop a yellow hue. This is only temporary, but can be avoided by using our Turmeric Goat Milk Soap. We have formulated the soap so that you have the right concentration of turmeric to get this benefits without dying your skin.
If all of these benefits aren't enough to convince you to try our Turmeric Goat Milk Soap then the deep, spicy scent (turmeric powder and turmeric, frankincense, and grapefruit essential oils) and wonderful rich lather feel will! Head over to our website to pick up a few bars yourself!
The information in this post is not meant as medical advice. Please consult your doctor if you are having issues with your skin. Always test new products on a small area of skin before regular use.