I'm sorry I missed last week's What's up Wednesday. The busy season for the soap business, photography business, farm, and garden are all in full gear… at the same time. We are so incredibly grateful to be this busy. I hope it stays like this!
So much has happened on the farm in the last two weeks. Four of the eight goat kids have gone to their new homes. They all went to good homes and we couldn't be more thrilled. We still have 3 bucks that we are trying to sell. Selling bucks is no easy task. Farms only need one or two to breed to their entire goat herd and from what I am hearing from other farms there have been an unusually large number of bucks born this year. We were lucky to only have had fifty percent bucks… not many in this area have been so lucky. I am hoping these sweet boys at least go as pets to someone. They are all so gentle and have amazing personalities.
We moved the the bantam chicks outside into their new coop! They were getting tight in their brooder and we were getting tired of having the clean it twice a day… chicks create a lot of dust and dirt. We purchased a coop last year to use for our free range chickens to sleep and lay their eggs. It ended up being a really poor quality, even though we paid a pretty penny for it, so we decided to move the free rangers back into the sturdy coop where they were safe. The "free ranger" coop sat empty for a long time. We weren't sure what to do with it. It would be a waste to just throw it out, but we were pretty sure it would just fall apart should a dog or other predictor decide to jump up against it. When our friend Rachel brought us the bantam chicks we knew we needed to find them a home once they were done with their brooder, so we decide to reinforce the coop and make it into a tractor, allowing the chickens to help us with pest control around the farm. We removed the entire bottom of the coop… meaning we pulled it away because it had basically wasted away and had already fallen through twice from the weight of the chickens (see… piece of junk). We sat the coop directly on the ground and used the run area the coop once sat on as a run for the front of the coop. It was just the right size considering they are only bantams and will be moved daily. We totally removed one set of nesting boxes because they too had fallen apart (we had half the number of chickens in this coop than it called for by the way). Kevin reenforced or replaced all the areas that were falling apart or felt weak. It has made a cute little chicken tractor! I am so glad we were able to use it and it won't go to waste… I hate waste.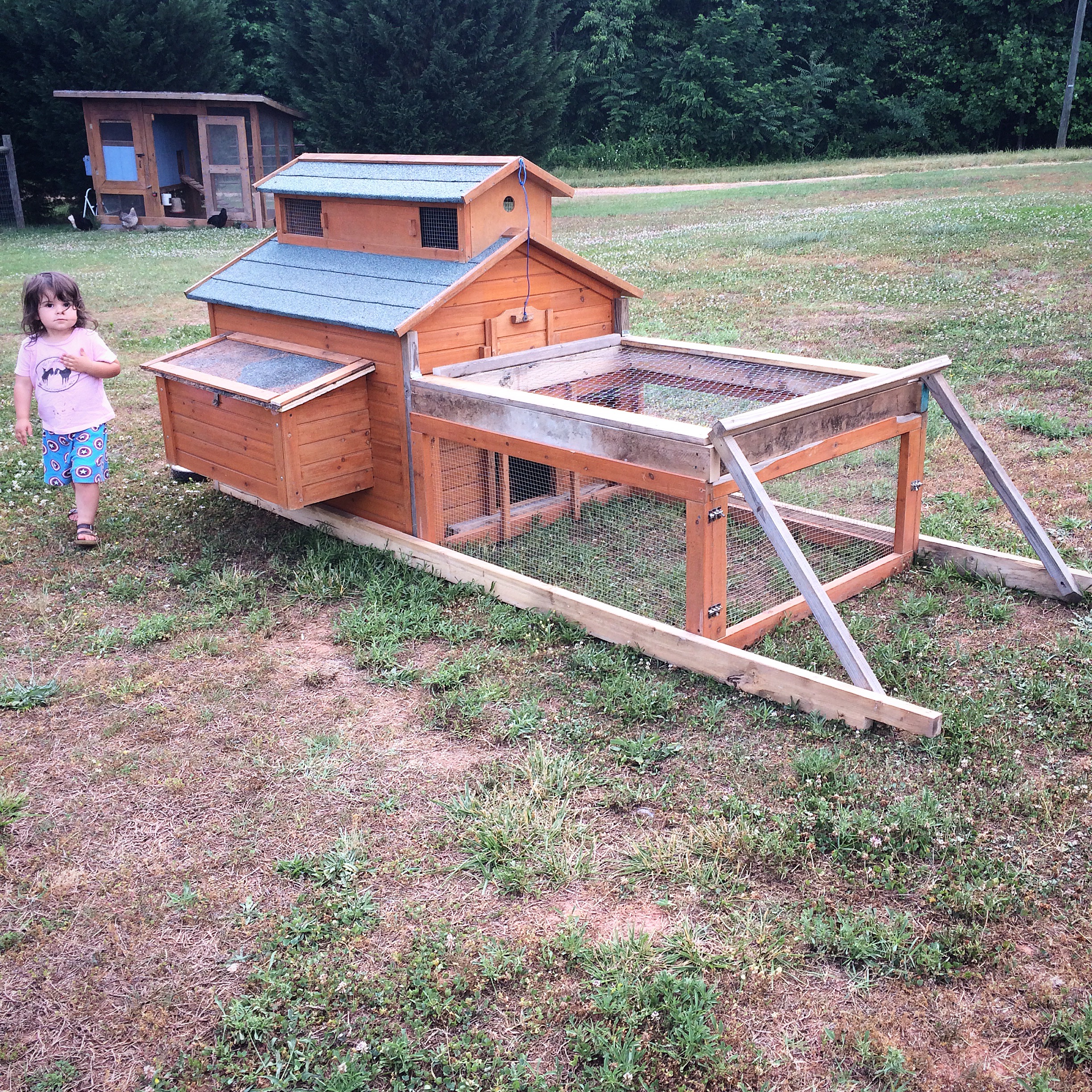 In soap news, our Summer Goat Milk Soap is on the curing racks! I am so ready for this soap to be done! It is so wonderful for summer skin. I used it all last summer and I've missed it so much. It's made with green tea and aloe, so it's soothing for skin that has had a lot of sun exposure. It will debut on the first day of summer later this month!