Want to know more about the farmers, animals, and buildings on The Freckled Farm? Every Friday I will introduce you to another part of The Freckled Farm. This week you have a chance to get to know Tina Fey!
On The Freckled Farm our animals are named by themes. The llamas are named after mountains, the chickens are named after 80s and 90s sitcom characters, and our goats are named after strong, intelligent women that we love and admire.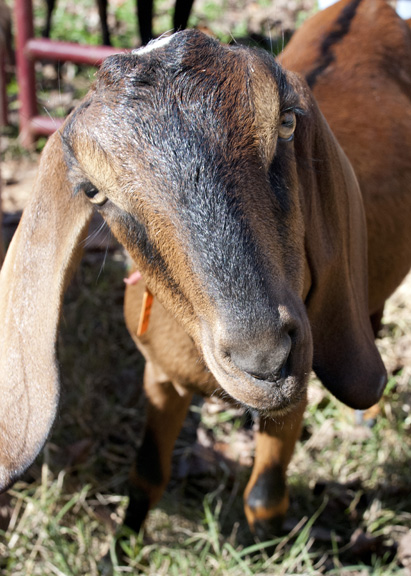 I am starting with Tina Fey because she is the alpha. All herds have them and Tina is ours. She is truly a "Bossy Pants." She bosses everyone around… Well not me, but that's not from lack of trying.
When the barn was complete and the fencing was in progress I began to look for a farm that had a few available yearlings. We hadn't planned on getting goats until spring, but with the farm structures coming to completion I wasn't willing to wait any longer. I searched for a while but most of the local farms had already sold off any available goats that spring. I finally found a farm not far from us that had eight doelings from two different breedings for us to pick from. I knew there was no way that I would go and not find at least two goats that I liked, so it really started to sink in that the goats we saw that day would be the start of our farm. On the drive there Kevin and I discussed how we would know which goats to get.  I had waited my whole life for this day (no exaggeration), so I wondered if I would just know which goats were ours or if it would solely be an educated decision based on the goats structure and the history of the dam and sire. We had visited several farms that year and even had reservations to get 2 kid does in the spring, but we had never had the experience of going to a farm and saying "We will take those two," so the excitement that surrounding this farm visit was very different than in the past. We got to the farm and the owner walked us through the property. We walked passed the dog pen, the buck kid pen, the big buck pasture, and up to the adult doe pasture. She pointed towards the pasture where the doelings were. I looked over and there they were, standing up against the fence and there was one doe who just struck me. It was like she was lit up. I knew she was mine. That goat was Tina.
When we first brought Tina home she was a goof ball. She would prance and hop around the pasture, but as we continued to add animals and it was no longer just her and Hillary she began to show a dominate side. She still has her goofy moments, but she rules the roost and is quite serious most of the time. She may be a bossy one, but towards me she is  loving and affectionate… sometimes aggressively so. She has dimples near her mouth that make it look like she is always smiling. We love her… bossiness and all.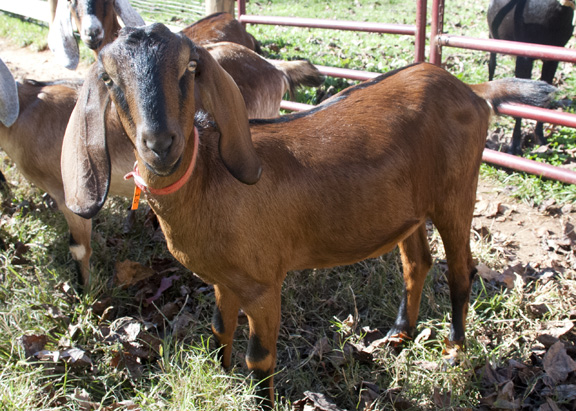 The Freckled Farm Soap Company makes handmade goat milk soaps. Our body care products are all natural and made with love. For more information about our products and to read more about the farm please visit our website: www.thefreckledfarmsoapcompany.com