Want to know more about the farmers, animals, and buildings on The Freckled Farm? Over the next few months I will introduce you to a different part of The Freckled Farm every Friday. This week you have a chance to get to know Breckin!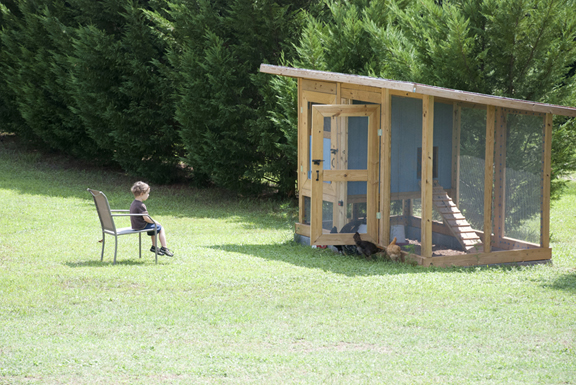 This photograph was taken a year ago, but is still one of my favorite Breckin "farm" pictures.
Breckin, our oldest (3 years), is a true farm kid. His main job around the farm, aside from being a kid, is to help care for the animals, specifically the chickens. One of my favorite parts of the day is watching Breckin put the chickens back into the coop before we go in for the evening. We have trained the chickens to respond to a specific call ("Coop Coop!"), when they hear the call they come running from all corners of the farm. They hop in the coop and Breckin spreads black oil sunflower seeds on the coop floor for them. I love to hear him walking through the yard calling them as he shakes his cup of seeds. He calls them by name if they are being slow and counts them before closing them up for the night.
Breckin is also a great help in the garden. He will help me pull weeds, but I have to watch him closely because sometimes he will get ahead of himself and start pulling everything in sight. He loves to water the plants and watching as they grow (he even measures the plants). Many veggies he wont eat unless they come out of our garden, like cucumbers.
Breckin has been known to create mud puddles to play in, to strip down to his underwear in order to run through the hose, to build with any material he can get his hands on. He is so proud of his farm, his animals, and his family. He is the best big brother and son of all time, and he is so incredibly loved.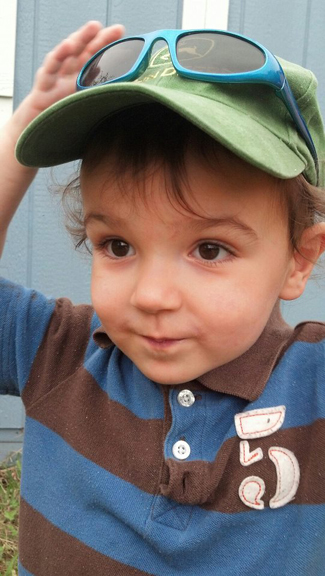 The Freckled Farm Soap Company makes handmade goat milk soaps. Our body care products are all natural and made with love. For more information about our products and to read more about the farm please visit our website: www.thefreckledfarmsoapcompany.com