Last time I featured a soap set it was highlighting heavily scented soaps. Today I have put together a set of lightly scented soaps.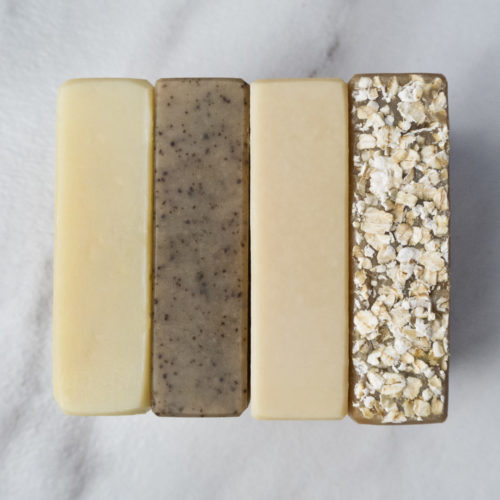 From Left to Right: Coconut Lime, Coffee, Castile, Oatmeal Honey
Coconut Lime Goat Milk Soap – Our Coconut Lime soap has the subtle scent of lime essential oil. It's not an overpowering scent. It's nice, light, and lovely.
Coffee Goat Milk Soap – While this soap has a *lot* of coffee in it, coffee is a scent neutralizer so it neutralizes it's own scent. It has a light sweet smell but that is it. It has the extra benefit that it helps get rid of scents that you don't want… like onions or garlic.
Castile Goat Milk Soap – This soap has no added scent. It smells of the oils it is made with and that is all. It's sensitive and gentle, and if you are someone who doesn't want a soap that leaves a scent this is the perfect soap for you.
Oatmeal Honey Goat Milk Soap – Like the Castile this soap doesn't have any added scent. It features the subtle warm aroma of oatmeal but it is not at all overpowering.
SaveSave
SaveSave