Want to know more about the farmers, animals, and buildings on The Freckled Farm? Every Friday I introduce you to another part of The Freckled Farm. This week you have a chance to get to know our barn!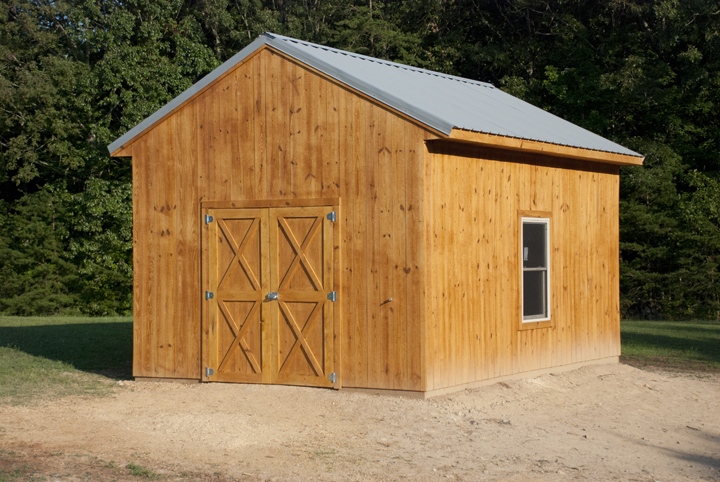 When we purchased this property it was just a house on some acreage. It wasn't set up as a farm, but I had a vision of what it could be. We dreamed, planned, and saved for several years. We slowly moved towards becoming a real working farm and finally in August of 2012 we built our barn… or more accurately we had Thad from Louisa Barn and Buildings build our barn. It was an emotional process for me. I had dreamed of my farm for so long and the barn is really what makes a property a farm. Everyday when the builders left I would go stand out in the middle of the construction and marvel as I watched this thing that I had dreamed about for years and years piece together. It's not a huge barn, but it fits us perfectly and we have lots of space to grow into it.
Many goat people have visited and were blown away by our barn. It's beautiful and is far more than most people do for their goats. Although it's not always the case, a lot of people simply have a lean-to or shed to house their goats and really this is fine for a small herd, but we hope to have 10-13 goats when the business is running full steam. My philosophy is do it once and do it right. You save money if you do it well the first time and if you aren't trying to constantly keep up with your growth or mend a shelter that is not as solid as a barn might be. Also, Virginia weather can be unpredictable and I didn't want to be left trying to figure out how to house the goats if we had a blizzard like a few years ago.
Our barn is the centerpiece of our farm and we are very proud of it.
The Freckled Farm Soap Company makes handmade goat milk soaps. Our body care products are all natural and made with love. For more information about our products please visit our website: www.thefreckledfarmsoapcompany.com