It's the start of kidding season!!! Sonia is due any day now! Her due date is actually Friday but she has been showing signs of labor for days now. Her ligaments are almost completely gone and she has had some discharge. By Tuesday afternoon it became obvious that she had "dropped," she's been leaning against me and her sister quite a bit as well… all are signs that kidding is near. On Sunday I thought for sure she was going to go into labor. She was pacing around, she had all the signs of labor, and you could see in her face that something was going on. We spend a lot of time with our goats, so the littlest change is noticed and this was a blaring change to her personality! This wasn't her time however. She settled down before bedtime and just moaned through the night. Given her current state I would say it is highly unlikely that she will make it to her due date. I have a very hard time believing that she she will go beyond Thursday. Considering I write these "What's up Wednesday" blog posts throughout the day on Tuesday it's possible that by the time this posts Wednesday morning that she has already kidded… Although I am still guessing Thursday. Check out our Facebook, Instagram, and/or Twitter to see more timely updates.
During Sonia's ultrasound we were told that she likely has one kid. As you can see in the picture she isn't very large. The picture was taken Saturday, but there hasn't been a significant change to her size since then. Sonia is the goat in the front with the green collar.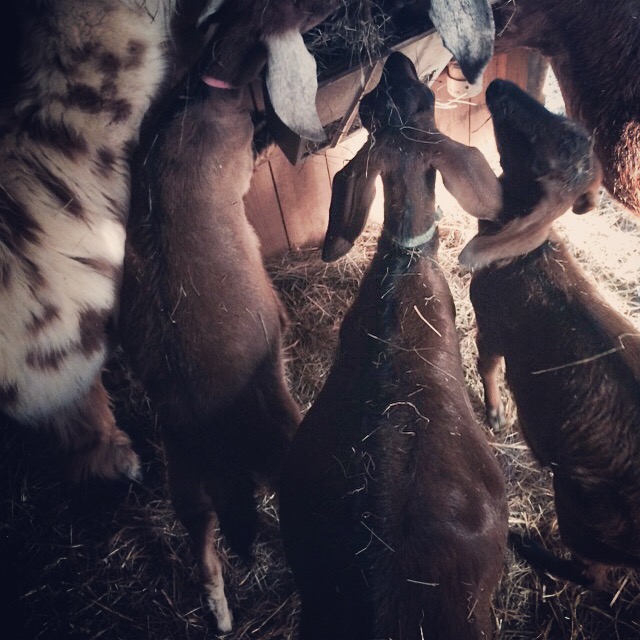 The first kidding of the season is always the one that makes me the most anxious. There is all this build up for baby goats and the excitement of watching new life come into the world. There is also the fear that you have forgotten something or something might go wrong. While this fear doesn't come close to trumping the excitement it's still in the back of my mind. Maybe it will go away when I have years upon years of experience under my belt… however I have had friends who have been working with goats for decades and still feel the anxiousness of the start of kidding season. It's the unknown! What are the babies going to look like? How many does and bucks will we get? What will their personalities be like? How well will our girls do? Will we miss it? What if we miss it and something goes wrong? I am feeling especially anxious this year because last year we ended the season with Tina's awful kidding! If we had not come in while Tina was experiencing her problems it could have had a terrible outcome. I know though that as soon as Sonia kids that I will be in the grove and the anxiousness will go away (for the most part)… at least until Tina's kidding in June.
Once Sonia kids her sister Ruth will not be far behind! Stay tuned for lots of precious baby goat pictures!