This month on The Freckled Farm First Friday Book Club I am recommending the wonderful book Sheepish by Catherine Friend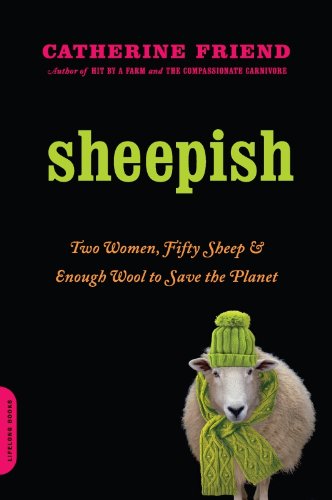 Just so you don't think that I am completely bias towards goats I have decided to go ahead and throw in this delightful book that predominately features sheep! One of the things that I love about this book is that it talks about the "middle." In fact, it is the theme of the book. There are a ton of farming memoirs out there that talk about the start of a farm. Most likely because it is the most interesting time for a farm and it's farmers, but for once it would be nice to read about what comes next. What happens after the farm is established? Farms constantly change and grow, how do you keep going from year to year? How do you deal the heartache?
In Sheepish Catherine is in that place in her farming career… the middle. Catherine struggles to find her true place on the farm. She feels like it comes so naturally to her partner Melissa, while she questions if this is what she really wants to be doing. She occasionally contemplates selling the farm and touring the country in an RV, but knows that this will destroy Melissa. The book follows her as she searches for, and discovers, a part of the farm that she feels like she can call her own, something she can be passionate about. Ms. Friend has a wonderful sense of humor and the book is beautifully written. By the end of the book you will be considering an all wool wardrobe… no kidding.
Have you read Sheepish? Leave your thoughts in the comment section.