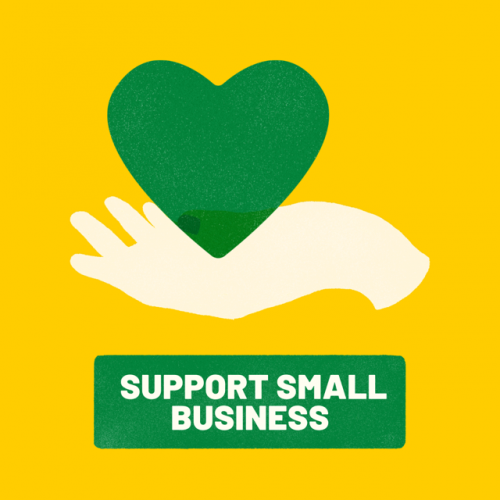 This has been a trying time for us all. Truly every one of us. It's remarkable to think about the magnitude of what we are experiencing right now. As a small business owner, who spends most of my time around other small business owners, I have a very clear picture of how this is affecting our small business community. Most of us are having to figure out an entirely new business plan to continue on and bring in the money we need to support our families. The resilience of this group is amazing. However we all need support from our community to get through this. So when you are shopping (hopefully from home on your couch) consider shopping small. Amazon, Walmart, and Target do not need our help but the small business down the street does.
We will all be getting our stimulus checks soon. Many of us need that check just to pay our bills and purchase our basic necessities, but some still have their jobs and these checks will just be extra income. I suggest that if these checks are "extra" for you that you put the money back into your community and support small businesses.
For those of you who are just getting by right now you can still support small businesses without spending a dime! I have added links to the Facebook and Instagram pages for the businesses below. Go to their pages and follow them, like and comment on their posts, and share their products with your friends and family. Show them love! This sort of support goes a long way and is totally free.
Below I have outlined lots of great small businesses I would love for you to support through this crisis. These are businesses that I have worked with and can vouch for:
Food Hubs: These have been an amazing resource for Virginia farms through social distancing.   They are online systems where farmers list all of their available goods, you place your order, the farmer puts it together and takes it to the delivery location. From there the volunteers or market managers distribute the products… you go to pick up your order, from all the different farms, all together in one place. It's the farmers market without the crowd. Below I have listed some of the Food Hubs we are working with and suggest you use.
Virginia Small Businesses: I have to start by highlighting the businesses of my own community, Goochland, VA. These individuals are like family… my support system. As you get further down I have highlighted companies I love throughout Central VA. I tried to note if the companies were offering any specials.
The Freckled Farm Soap Company – Goochland, VA – Goat Milk Soap, Lotion, and Laundry Detergent – We are offering free shipping on all orders $30+ until the farmers markets open back up. If you are local you are can pick up your order from our pick up station in the farm's driveway. The farm itself however is closed to visitors. Instagram – Facebook
Grayhaven Winery – Goochland, VA – They offer a drive thru pick up service and free delivery with $60 minimum within 30 miles of the winery. Cost share on shipping in VA. Facebook – Instagram
Haashrooms – Goochland, VA – Fresh mushrooms, mushroom logs, and products featuring mushrooms. The farm store is always open and they are selling shiitake logs for the next week for $20 apiece. A great project to do with children while they're out of school. Facebook – Instagram
Donovan Apiaries – Goochland, VA – Fresh, raw, unfiltered honey – They are offering farm pick ups and local deliveries. Facebook – Instagram
Peacemeal Farms – Goochland, VA – A diverse homestead with meat and veggie offerings. They also offer classes for tanning hides and butchering occasionally throughout the year. Facebook – Instagram
Luna Blossom Design – Goochland, VA – Handmade Dog Collars – Facebook – Instragram
Amanda Miles Photography – Goochland, VA – Portrait Photographer – We love Amanda. We have used her services in the past and when the social distancing is over she is coming out to get family pictures and farm pictures for the business. I am sure the shut down has moved most, if not all, of her current bookings back, so make sure you contact her so you can get on her schedule before she books up for the year! Facebook – Instagram
River Road Cottage – Goochland, VA – Adorable gift shop in Goochland Courthouse. You can shop virtually on their Facebook page until everything opens back up. Facebook – Instagram 
Courthouse Creek Cider – Goochland, VA – Order Bella Vita, GF beer, or any of their other all-natural ciders by emailing Liza at cider@courthousecreek.com. Pickup is available at the farm every day from 9am-4pm or Scott's Addition every Thursday from 4-8pm. Local delivery is also available and free with a 2 bottle minimum purchase – Facebook – Instagram
Brookstone Buildings – Goochland, VA – Sheds and buildings – They are open and can take orders online or over the phone if necessary. You can visit their lots and shop from inside your vehicle as well. (As many of you know we are in the process of building a new soap facility. This is where our building came from! We are so pleased with it.) – Facebook
Bandit's Ridge – Goochland, VA – A wonderful little place to hold events… when they start holding events again. Facebook – Instagram
The Estate at River Run – Goochland, VA – They have specials for people still looking to do events in 2020 – Facebook – Instagram
Virginia Free Farm at Spotted Pig Holler – Kent's Store, VA –  Non-Profit Homestead Farm in Central Virginia – Facebook – Instagram
Laura Botanicals – Richmond, VA – Herbalist – Her zoom meeting community gathers 5 PM every Sunday (EST), folks purchase series of 4 sessions at a time for $100. This price also includes 1 herbal consultation (45 minute focus 1:1 call valued at $45) booked with her over email upon payment of invoice, a 20% online shop discount, mailed herbs for at home projects, emailed worksheets to compliment the weekly learning sessions, access to a private group on FB AND unlimited email support for any and all questions personal health related or otherwise. Facebook – Instagram
Josh's Jungle – Richmond, VA – Pepper infused salts – Facebook – Instagram 
Lesley's Garden – Westmoreland, VA – I adore this produce company. They are next to me at South of the James Farmers Market. They are wonderful people with a diverse produce farm. Facebook
Black Boar Farm – Center Cross, VA – Pork and Honey Products – Facebook
Earth's Echo Farm – Fredericksburg, VA – Grass-fed grass-finished beef, pasture raised chicken, and eggs – Facebook – Instagram 
Just Bee Kind – Appomattox, VA – Honey products and eggs – Facebook
Bon Air Naturals – Bon Air, VA – Bath Bombs and other soap products – Facebook – Instagram
Teething Around – BPA Free: Bibs, teethers, pacifier clips, necklaces, rattles, rings, + More – Facebook – Instagram
Thinking Of You Creations – Henrico, VA – Baked goods and granola – Facebook – Instagram
Owl Spoon Water Kefir – Richmond, VA – Water Kefir – Facebook – Instagram
Chestnut Ridge Farms – Blue Grass, VA – Pasture raised beef and pork – Facebook – Instagram
Evolutions Salon – Midlothian, VA – They are are offering a $125 gift certificate for $100! Email them to take advantage of this offer. Kendall has cut my hair forever. Facebook
Studio Jane – Richmond, VA – Jewelry – Offering 20% off – Facebook
Adam Goldsmith Photography – Richmond, VA – Fine Art Photography – Facebook – Instagram
Itty Bitty Press – Richmond, VA – Graphic Design – Facebook – Instagram
Nicole Lee Designs – Richmond, VA – Bags and pouches – Facebook – Instagram 
Phoenix Handcraft – Richmond, VA – Blacksmith and mosaic artist – Facebook – Instagram 
Prayer Monkey – Richmond, VA – Enameled housewares, art, and jewelry – Facebook – Instagram
Shade Metals – Richmond, VA – Silver and gold jewelry that replicates the botanical world. Facebook – Instagram
Please visit the websites of these awesome small businesses, follow their social media pages, and purchases their products when you can! Thank you!